I recently came back from a trip to Berlin, and of course I had to make my obligatory stop at Berlin Bier Shop. From there I bought the following 11 bottles (all but one a German microbrew):
BrauKunstKeller 4-Pack (containing their Amarsi IPA, Mandarina IPA and White House Honey Beer), Hopfenstopfer Comet IPA, Bayrisch Pale Ale, Bavaria's Best Imperial Stout, Bavaria's Best IPA, Camba Hop Gun, Camba Ei Pi Ai and Widmer Brothers Nelson Imperial IPA.
I had planned to take them all home, but do to space limitations in the bag, I had the Bavaria's Best IPA and Bayerisch Pale Ale at the hotel. I've had the IPA earlier, and I must say it was as tasty as I remembered. Loads of resiny hoppiness coupled with a malty backbone. Fans of bone-dry West Coast IPAs will find this too sweet and caramelly, but I found it really enjoyable. The Pale Ale was nice as well, featuring a firm bitterness and great fruity and spicy hop tones from the Hallertauer Mandarina hops. Both bottles were really fresh as well (under two months old I assume, based on the BBE), so I really recommend you try them out if you have the chance!
While I was at Galleria Kaufhof I spotted a cooler with Braufactum beer, and decided to buy home one bottle each of Firestone Walker's Pale 31 and Double Jack (both relatively fresh, being bottled in February). Again, due to space limitations, I had the Pale 31 at the hotel, and it was as good as ever. Definitely my favorite APA out there.
During the trip we also visited Hops & Barley, a brewpub in Friedrichshain. I've walked by several times during my previous trips to Berlin, but it has always been closed (it opens at 5PM, and I've always been there during the afternoon). Now it was finally time to try out their beers (which I've heard are some of the best in Berlin).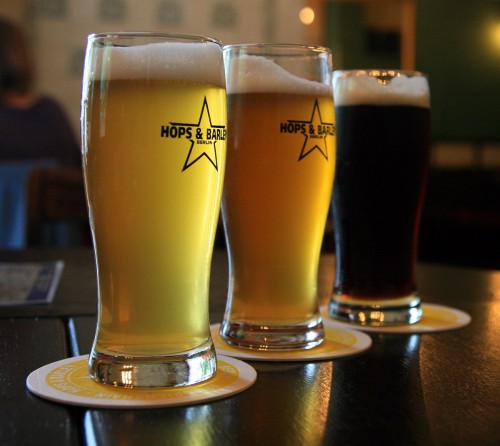 We ordered in one glass of everything they had on tap, i.e. their regulars Pilsner, Dunkles and Weizen, their changing special, which now was a Demminer Export, and their Apple Cider.
The quality of all the beers was high, and I especially liked their Dunkles, which featured a chocolately and roasted aroma, coupled with a light, but flavorful body.
Their Pilsner was good as well, with a nice bitterness,crisp body and grassy aromy. The Demminer Export was quite similar to the Pilsner, being perhaps slightly maltier and less bitter. This was my least favorite of the beers.
Their Weizen was quite a typical Hefeweizen, featuring banana and clove aromas and a nice drinkability.
I was even pleasantly surprised by their Cider, which I found really tasty. It featured a strong apple flavour coupled with a dry and slightly tart finish.
I definitely recommend a visit if you are in the area!