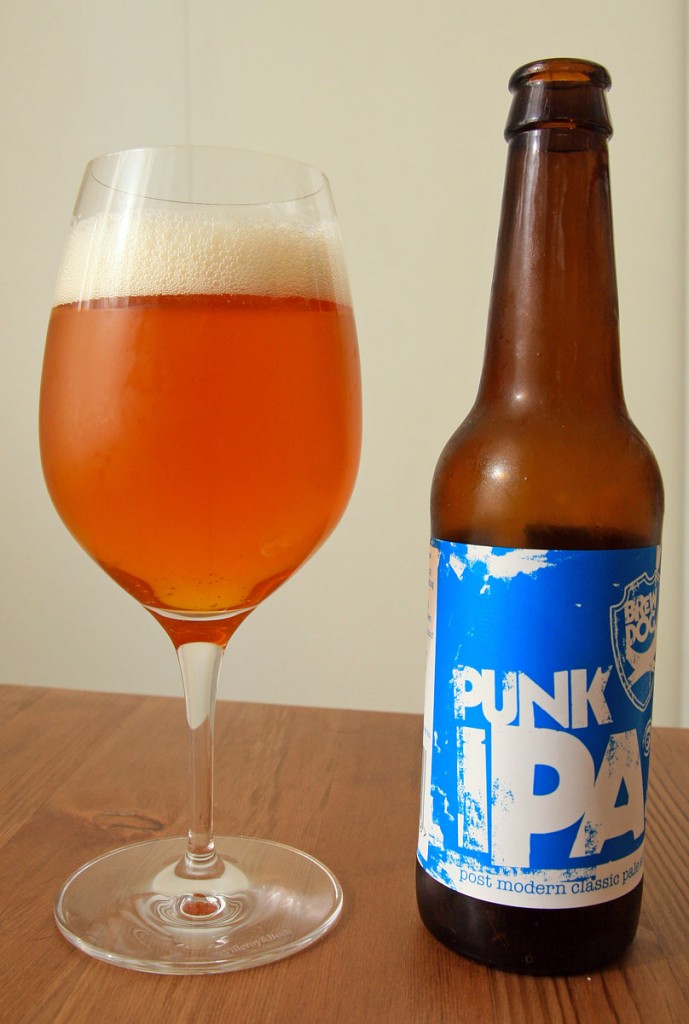 Brewery: Brewdog
Country: Scotland
Style: (American) India Pale Ale
ABV: 6.0%
Size: 330 ml
Bought from: Germany, 2.79€
Brewdog's Punk IPA recently had its recipe updated, and with that the alcohol percentage was lowered to 5.6%. This review is on the old version boasting 6.0% ABV, and according to Brewdog contains: Maris Otter Extra Pale Malt, and is hopped with Chinook, Crystal and Motoeka. IBUs are 65. The new version has a different hop profile, containing: Simcoe, Ahtanum and Nelson Sauvin hops, with 45 IBU.
Brewdog Punk IPA
Appearance
The beer has a golden-yellow translucent color, with a couple centimeter thick white head that falls quickly, leaving some traces of lacing along the glass. There are signs of carbonation, with bubbles rising to the surface.
Smell
The beer has a quite present piney, floral and citrusy hop aroma, with hints of sweetness and maltiness.
Taste
The initial taste is sweet and malty, with initial notes of caramel, but a piney hop flavour quickly takes over, leaving a bitter and citrusy aftertaste on the tongue. The beer is not overly bitter, and is well balanced.
Mouthfeel
The beer is smooth, with a medium body and carbonation level. The drinkability is good, but the carbonation and bitterness takes it down a bit.
Overall
A nice beer and attempt on an American IPA, but would have wished for stronger hop aroma and flavour, with slightly lower carbonation and just a hint more malt complexity.
Note: I also had a bottle of Punk IPA, coming from the same shop and probably around the same batch, earlier this week, that tasted like ****. It had probably gone bad, even though it was still within the best before date.