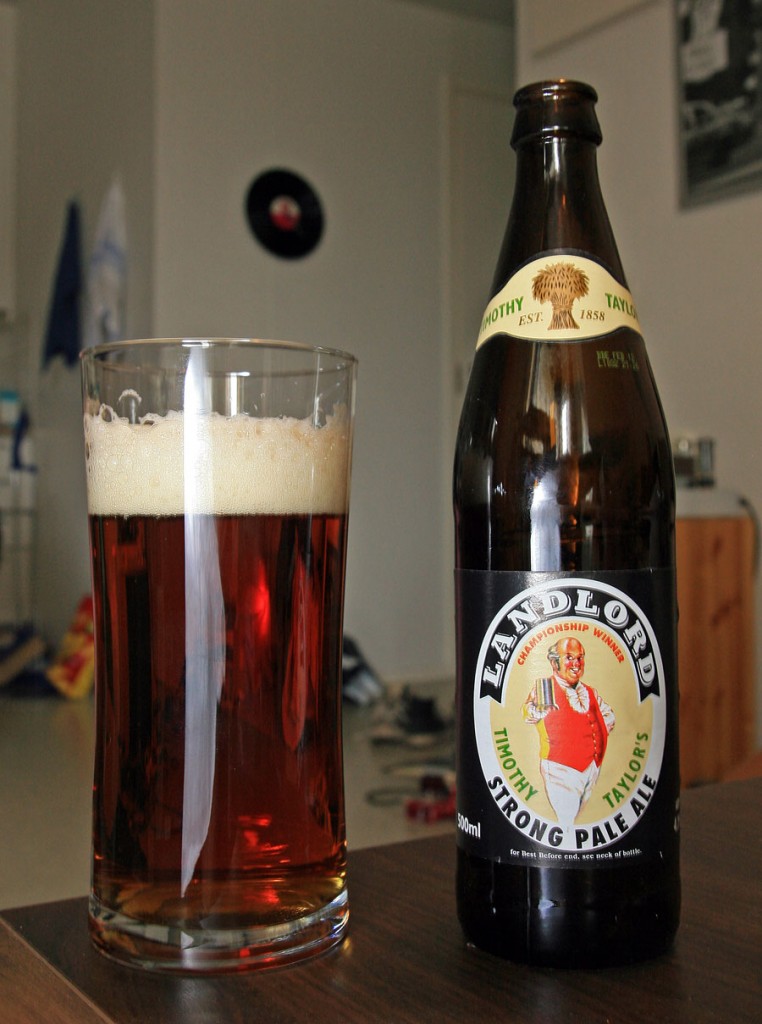 Brewery: Timothy Taylor
Country: England
Style: English Pale Ale
ABV: 4.1%
Size: 500 ml
Bought from: K-Supermarket, 4.97€
Timothy Taylor Landlord Strong Pale Ale
Appearance
The beer has a golden-brown color, and is clear (the beer has been filtered and pasteurized), with a couple centimeter thick head (leaving some nice lacing along the glass) and fine bubbles rising in the glass.
Smell
The beer has a malty and fruity smell, with some hints of earthy hops. The aroma isn't very pronounced. (Note: I currently have a cold, so my olfaction isn't at its best)
Taste
The beer initially has a sweet and malty taste (with some notes of caramel), while slight bitterness and fruitness takes over, leaving a slighty bitter aftertaste. Maltiness dominates the flavour, without being too sweet. The beer is well balanced.
Mouthfeel
The body is smooth and quite light, with moderate carbonation, making it easy to drink. The alcohol level is low letting you enjoy many of these in an evening.
Overall
A good tasting, easily drinkable English ale, with a great malty flavour balanced with some earthy hops. A little on the expensive side, but might buy again. A little too low hoppiness for my taste, but great for a session beer.
Thanks to Pia for buying me this one! <3