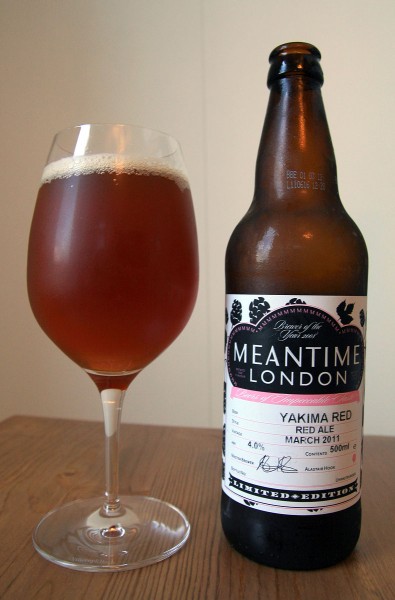 Brewery: Meantime
Country: England
Style: Amber Ale
ABV: 4%
Size: 500 ml
Bought from: K-Citymarket, 4.20€
Today it's time for Meantime's Yakima Red, an Amber Ale hopped with 5 hop varieties from the Yakima Valley, USA. I have no idea what these hop varieties are, but I assume they are American in style and probably includes some C hops. The label is artsy, with silhouettes of hops vines, making me guess this will probably be a hop centered beer.
Meantime Yakima Red
Appearance
The beer has a deep amber color, and is clear (the beer is unpasteurized though), and has a thin white head, that collapses leaving no lacing along the glass.
Smell
The aroma is quite light, but contains fruity and floral hops tones, as well as some sweetness.
Taste
The flavour is mostly fruity hops with tones of grass and citrus, together with a slight caramelly and maltiness, and a surprisingly bitter and dry finish. Even though this is an amber ale, there isn't much malt, caramel and biscuits available in the flavour, and I would certainly like a fuller body, but considering the low ABV the light and dry finish is understandable. The beer is unbalanced, with not enough focus on the amber, and too much focus on the hops and bitterness.
Mouthfeel
The beer has a quite light body and a moderate-high carbonation level, making it a bit tough to drink, especially with the sharp finish.
Overall
It's too bad that a beer focusing this much on hops turns out to be a disappointment. This beer suffers from the same syndromes that many other low ABV hop-driven beers suffer from, and that is a dry and bitter finish, that overtake that hop flavours and maltiness, that should stand in front.