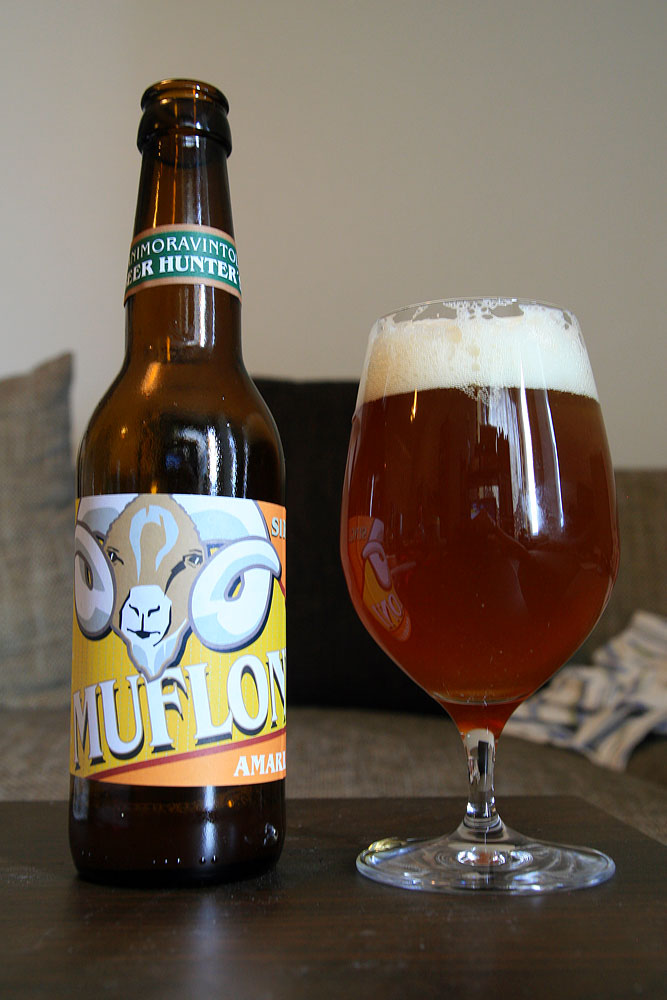 Brewery: Panimoravintola Beer Hunter's
Country: Finland
Style: Bitter
ABV: 3.5%
Size: 330 ml
Bought from: K-Supermarket, 4.99€
Not on Beer Advocate
Beer Hunter's Mufloni Amarillo
Appearance
The beer has a golden-brown color, and is hazy (the beer is unfiltered and bottle conditioned), with a couple centimeter thick head (leaving nice lacing along the glass).
Smell
The beer has a slighty sweet and fruity (tropical fruits and grapefruit) aroma. The aroma isn't very pronounced. (Note: I currently have a cold, so my olfaction isn't at its best)
Taste
The beer is quite dry, with a fruity and bitter taste (good level of hoppiness). Slight aftertaste of grapefruit and peach. Good balance between maltiness and hoppiness.
Mouthfeel
The body is quite dry and has medium-low fullness, with moderate carbonation. Quite easy to drink.
Overall
A tasty and easy to drink single hop beer, that shows of the aroma and flavor of Amarillo hops. The beer is quite expensive, but is produced by a domestic microbrewery/pub, so I shouldn't complain. A little too low hoppiness for my taste.