Sahti is a traditional Finnish fermented beverage, that can be made from a variety of grains and is typically spiced with juniper berries (hops are optional). The mash may also be filtered through a bed of juniper twigs. Fermentation is usually carried out with bread yeast (or an ale yeast), resulting in the formation of high concentrations of isoamyl acetate (a banana-flavored ester). I haven't drank many Sahti before, with the only commercial ones being Lammin Sahti and Hollolan Kivisahti. I wasn't really fond of either, so am in general a little skeptic towards the style. Today I have the honor to try two homebrewed Sahti, one more traditional from Jussi, and one a bit more modern from Juhani. Hopefully these can change my opinion on Sahti. Let's begin with the more traditional Tokkura-sahti from Jussi.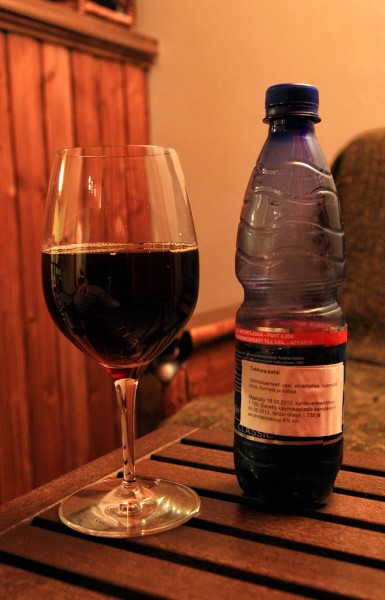 Brewery: Jussi's Homebrewery
Country: Finland
Style: Sahti
ABV: 9 %
Size: 330 ml
Bought from: –
Not on Beer Advocate
Not on RateBeer
Tokkura-sahti was brewed in the middle of May, and has been mashed from barley and rye malts. Both hops and juniper berries have been used in the wort, and if I remember correctly the mash was filtered through a bed of juniper twigs as well. The OG was relatively high, 1.100, while the FG is also relatively high, 1.039. This means the Sahti will be sweet, while the alcohol level of 9% should lend even more sweetness. The Sahti is bottled in a plastic PET-bottle, which feels soft, so I'm not expecting much carbonation. I'm not sure what yeast has been used, but I suspect that it is not bread yeast. Most likely a brewery yeast. This should be interesting!
Tokkura-sahti
Appearance
The Sahti pours with a deep dark ruby red color, which almost seems black if it isn't held up against the light. No foam head is formed at all, hinting that the carbonation level is probably very low. It actually looks like a glass of Coca-Cola. For a beer it doesn't look really appetizing, but I guess it suits the style.
Smell
The first thing that hits me as I take a deep sniff from the glass is a rich fruity aroma. Hints of a strong and sweet maltiness, together with tones of raisins, plums and other dark fruits. I couldn't detect any alcohol in the aroma, meaning the 9% are well hidden behind the other components. Reminds me quite a lot of the aroma you can typically find in Belgian Dubbels or Doppelbocks. Really nice!
Taste
The flavor is really similar to the aroma, with bready and malty tones dominating together with dark fruits. There are tones of raisins, plums and banana present. The finish is sweet, as was expected with the high final gravity, and there is very little bitterness. Can't really detect much of the juniper berries or twigs, since the maltiness and fruitiness dominate the palate. I guess there is a slight earthiness present hidden behind the other flavors, which could be from the juniper. Again, I couldn't detect any alcohol. Overall the Sahti is quite sweet, and it could maybe use slightly more bitterness.
Mouthfeel
The combination of virtually no carbonation and a very full body makes this feel almost like a dessert wine. A very heavy mouthfeel and this is definitely a slow sipper.
Overall
A really interesting experience, and definitely better than any Sahti I've tried before. A nice maltiness and rich tones of dark fruits (perhaps a result from oxidation) make this very beer-like, as the juniper and bread yeast tones were not really present. A bit too heavy for me and I couldn't imagine drinking many of these during one evening.
Brewery: Kosoolan Panimo
Country: Finland
Style: Sahti / American Pale Ale Hybrid
ABV: 5 %
Size: 330 ml
Bought from: –
Not on Beer Advocate
Not on RateBeer
Juhani's Sahti is a hybrid of an American Pale Ale and a Sahti. I don't have any information on the malt bill, but it has been hopped with Columbus and Simcoe. Juhani also 'dry-hopped' the beer with juniper berries. The beer was fermented with bread yeast, to give the traditional twist. I think this was brewed in the beginning of the Summer, so it should be of about the same age as the first Sahti. Should be a very interesting experience as well!
Kosoolan Panimo #72 Sahti-APA
Appearance
The beer pours with a hazy amber color and a slight off-white head is formed. The head collapses quickly, and again I suspect a beer with low carbonation. Juhani had warned me of very high carbonation in the beer, but I seemed to have gotten a bottle with a lower level. The surface of the beer looks oily.
Smell
The aroma is dominated by a herbiness, which I assume is from a combination of the juniper berries and the Columbus hops. There is also a sweet maltiness and some caramel present in the aroma. There are very little banana tones of isoamyl acetate present, despite the use of bread yeast, which in my case is a good thing, as I'm typically not that fond of the aroma. This is very different to the previous Sahti, but nice as well!
Taste
The flavor starts off with a spicy and bready maltiness. The spiciness could be from the juniper berries, but it is such a long time ago since I've last had one, so can't say for sure. The flavor also features some herby and resiny hop tones. The flavor finishes quite sweet and with a moderate bitterness. There is also a slight astringency that remains in the mouth as the other flavors fade. The flavor is not completely clean, as there are some yeast tones present as well. Compared to the previous Sahti, this was much lighter (both flavor and color) and more hoppy. I liked the flavor profile of both Sahti, but the first one was slightly more clean.
Mouthfeel
The beer has a low carbonation level and a medium-full body. Quite refreshing to drink, but it feels slightly harsh in the mouth, which draws off some points.
Overall
Both beers/Sahti were really interesting and quite different from those I've tried before. I liked the combination of a strong hoppiness and the juniper berries (it was slightly reminiscent of Malmgård Panimo's Arctic Circle Ale), but the flavor could have been slightly cleaner (perhaps by using an ale yeast?). Still an enjoyable beer!
Thanks to both Jussi and Juhani for the Sahti and the experience!