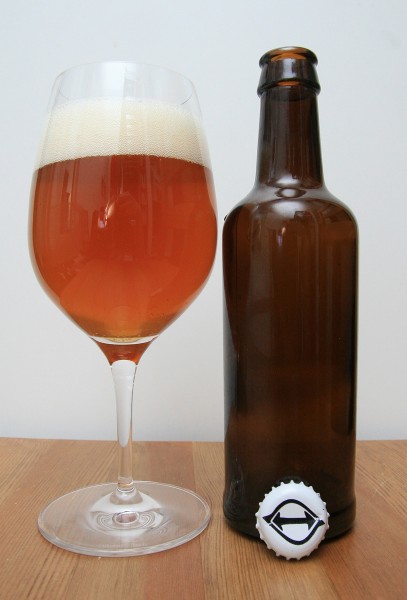 Brewery: Sly Cat Homebrewery
Country: Finland
Style: American Pale Ale
ABV: 5.0 %
Size: 330 ml
Bought from: –
Not on Beer Advocate
Not on RateBeer
Yet another post for today (I should learn to spread the posts out over several days), and now it is time to taste the rebrew of From Seamless To Shameless I brewed for Team Seamless of Aalto's PDP Course in the beginning of March. The beer has been well received, and compared to the first version, the second version is maybe slightly more bitter. I have one bottle left, so I thought I'd write up a review on it. The malt bill is simple, and consisted of Pale Ale, Vienna and Crystal malt. The beer was hopped with Simcoe and Cascade and IBUs should be around 30. The beer was fermented quite cool with US-05, so it should hopefully be quite clean. I kegged the beer together with a small amount of Simcoe and Cascade about a month ago, and transferred it to bottles about two weeks ago, so the beer should have had a little time to mature, but is still hopefully features some nice hop tones. Let's see how it tastes!
From Seamless To Shameless 2
Appearance
The beer pours with a just slightly hazy amber-orange color. A compact white-colored head is formed and the structure of it seems fairly solid. The head collapses quite slowly and it leaves drapes of lacing along the glass. Not a bad appearance.
Smell
The aroma is quite hoppy, with citrusy and floral tones dominating. There is a slight underlying tropical fruitiness, that brings my thoughts to mango, which could be from the Simcoe dry-hop. The aroma is not all hops though, as there is a slight caramel- and honey-like maltiness hiding in the background. The aroma is not that potent, but that is not a bad thing in a easy-to-drink 'beer for the public' like this. No off-aromas or otherwise off-putting smells either. Quite promising!
Taste
As the beer enters the mouth you are first hit with a caramelly, honey- and biscuit-like maltiness that is reminiscent to what was found in the aroma, but the taste is much more potent. The malt tones work very well, and these are joined by a citrusy and floral hoppiness. You can tell that quite a lot of late hops have been used, as the hop flavor is really present. The finish is slightly bitter, much less so than I had expected, and quite dry. The lower bitterness is not a problem either, as the beer still feels well balanced, and this makes it more drinkable for the larger mass as well. If I would rebrew this solely for my own enjoyment, I would probably up the IBUs by around 10-20 (making it border on IPA territory) as I think it would complement the strong malt and hop flavors better. Still, this is a very tasty brew. When I tasted the beer is connection with bottling it had a slightly sharp/astringent bite, but that is all gone now, and I assume it resulted from over-carbonation in the keg (carbonic acid bite). Quite happy with this one. Not perfect, but really good.
Mouthfeel
The beer has a medium body and carbonation level. It is very easy to drink, and the citrusy hop flavors make it really refreshing.
Overall
As I already mentioned, I'm quite happy with how this one turned out. Since it's quite fresh still, there is a lot of nice hop aroma and flavor left. The bitterness was maybe slightly on the low side, and I think this same recipe would work very well for an APA/IPA hybrid with an IBU around 50. The malty and biscuity flavors were surprisingly strong in this one, despite the quite simple malt bill. I really like using a large fraction of Munich or Vienna malt in my recipes, as I think it brings quite nice tones to the flavor. Hope I can achieve something similar with the beer we're brewing on Monday!