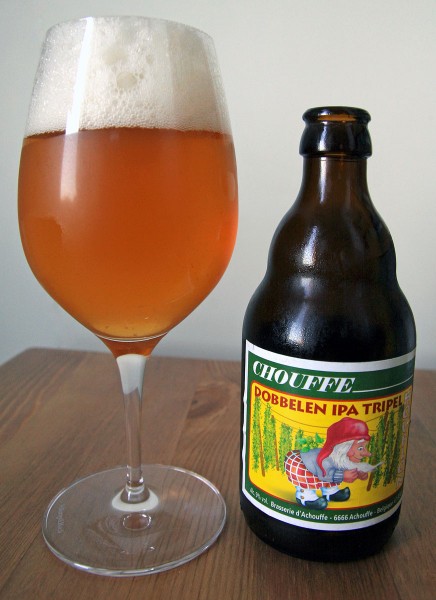 Brewery: Brasserie d'Achouffe
Country: Belgium
Style: Belgian IPA/Tripel
ABV: 9%
Size: 330 ml
Bought from: Germany, 1.99€
The Houblon Chouffe Dobbelen IPA Tripel is a blend of two different ale styles, Tripel and India Pale Ale, and is available in both small (33cl) and large bottles (75cl). The beer is hopped with Saaz, CTZ (Columbus/Tomahawk/Zeus) and Amarillo, and features an IBU of around 59 (varies with source).
Houblon Chouffe Dobbelen IPA Tripel
Appearance
The beer has a yellow-golden color, and is slightly hazy, with a foamy white-colored head, that quite quickly collapses leaving loads of lacing along the glass.
Smell
The aroma is mostly belgian yeast, with tones of fruit, grass and slight maltiness. The yeast tones definitely dominate over the hops. I would say the aroma is much more a Tripel than a IPA.
Taste
Slightly roasted malty tones, that are quickly overtaken by some flavours of citrus and spice, ending in a dry and slightly bitter finish. There are also some tones of earthy hops as well as alcohol in the flavour. The yeast aroma present in the aroma, was not at all as present in the flavour, contributing just slightly to the fruitiness and spiciness. The hop flavour seems a little on the low side.
Mouthfeel
The beer has a light body, with moderate-high carbonation, which makes the beer a little difficult to drink. Alcohol is detectable, but otherwise quite well balanced.
Overall
An OK beer, that I am a little disappointed with. Was expecting more IPA and less Tripel. Don't know if this was a bit old (BBD 06/2012), or if it just wasn't my type of beer, but probably won't be buying again. The price wasn't bad though when bought from Germany, but it is way more expensive from Alko.