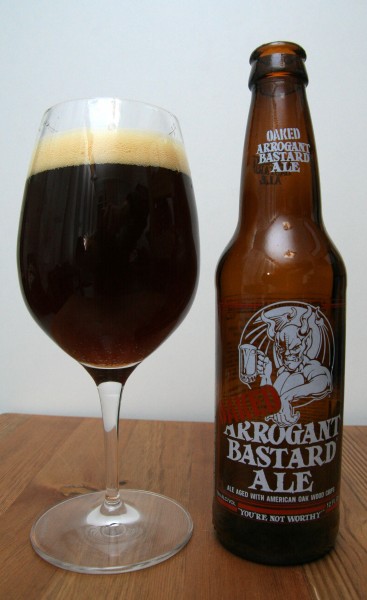 Brewery: Stone Brewing
Country: USA
Style: American Strong Ale
ABV: 7.2%
Size: 330 ml
Bought from: Brewdog Web Shop, ~7 euro
Today it's time for post number 100 on this blog, so I thought I would celebrate with a rarer (at least in Finland) beer. Today it's time to try Stone's oak-aged variant of their Arrogant Bastard Ale. They have been brewing their Arrogant Bastard since 1997, while the Oaked Arrogant Bastard as been available since 2004. Stone are usually very willing to give information about what's in their beer (malt- and hop-wise), but for some reason they keep the contents of their 'Bastard'-series beer classified. There are a number of homebrew recipes circulating around the web, with the majority of them suggesting a malt bill containing some 2-row, crystal malts, and a slight amount of roasted malts, and a hop schedule with 100% Chinook. The beer should be quite bitter (probably close to 80 IBU) as well. I liked Stone's Ruination Ale, so am really looking forward to this one as well. Happy 100th Post!
Stone Oaked Arrogant Bastard
Appearance
The beer pours with a dark amber color (there are some hints of red) and an off-white head. The beer is slightly hazy. The head collapses leaving lots of lacing along the glass.
Smell
The aroma is dominated by a toasty oakiness, lending tones of wood and vanilla, but there is plenty of caramel and citrusy hops to back it up as well. A very interesting aroma. The alcohol is well hidden, and can't be detected.
Taste
The flavor begins with a caramelly maltiness, along with some hints of roasted malt, but this is quickly joined by a (massive) resiny hop flavor. There is slight hint of vanilla and some earthy tones, which I presume is from the oak. The flavor ends with a quite bitter and complex aftertaste, featuring a mixture of wood, caramel and earthiness. The flavors are well balanced, and contribute each other very well.
Mouthfeel
The beer has a medium full and smooth body, along with a medium carbonation level, making it pleasant to drink.
Overall
Overall an excellent beer, featuring a complex mixture of interesting aroma and flavors. I really liked the massive resiny flavor from (supposedly) the Chinook hops, mixed with the caramelly roastiness, and the hints of vanilla and wood. Unfortunately you can't currently find almost any Stone beer in Finland, but after Christmas Pikkulintu (and some other bars around Finland) will be selling 10 different Stone beers for a limited time. The price I paid for my bottle was of course on the high side, but felt it was worth the price. A great beer for Post #100!