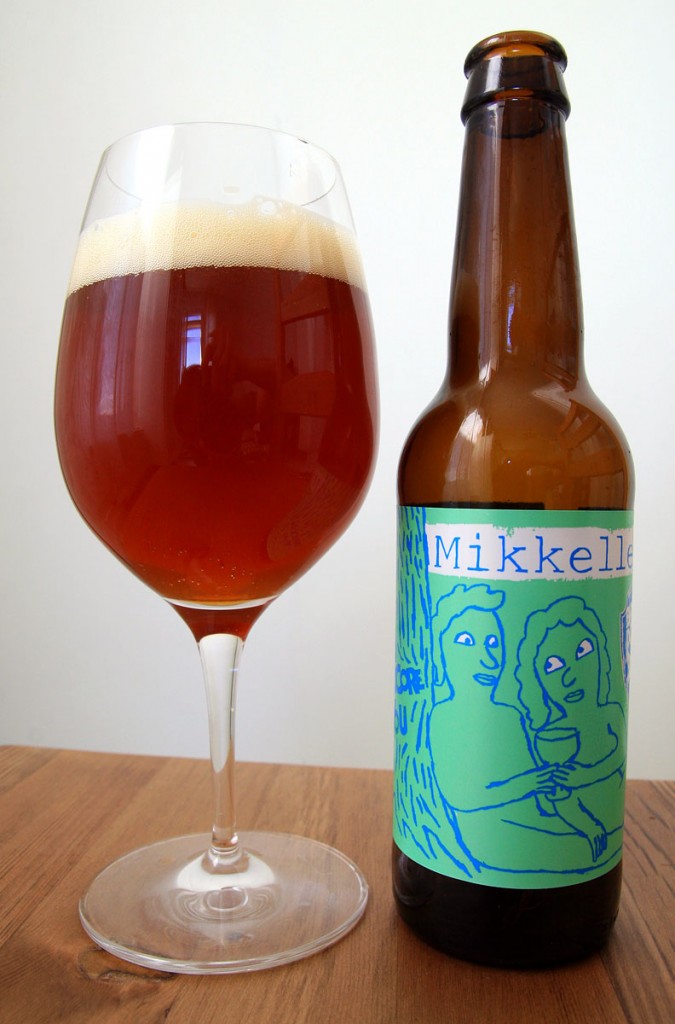 Brewery: Brewdog & Mikkeller
Country: Scotland & Denmark
Style: Imperial IPA
ABV: 9.5%
Size: 330 ml
Bought from: Germany, 3.79€
"I Hardcore You is a 9.5% Imperial India Pale Ale, an international collaborative effort between 2 of Europe's most rock 'n roll brewers. This beer is a blend of BrewDog's Hardcore IPA and Mikkeller's I Beat yoU. After the blending, the beer was then dry hopped a further twice. Making I Hardcore You a beer which has been dry hopped four times, or maybe even six times. We kinda lost count."
Brewdog Mikkeller I Hardcore You
Appearance
The beer has an amber color, and is slightly hazy. It has a centimeter-thick tan head, that collapses quickly, leaving some lacing along the glass.
Smell
The aroma of this beer screams hops, and is full of caramelly, 'tropical fruity', citrusy (especially grapefruit and orange), and piney tones. This smells delicious!
Taste
The initial taste is sweet and caramelly, but the tongue is quickly attacked by the huge amount of hops in this beer. Fruity, herbal and spicy hop flavours mix together with the malt backbone, while the bitterness 'burns' the tongue as the flavours disappear. This is a quite complex beer, with lots of different flavours mixing (with the hoppiness dominating), but it is still surprisingly well balanced. The high alcohol content is hidden well by the maltiness and hoppiness, and overall this is a very balanced beer. Maybe just a bit too much hops (As a hop lover, I didn't even think that such a thing could be possible).
Mouthfeel
The beer has a full body with a low level of carbonation. The body and the hoppiness gives the beer a thick and oily feel, but it is still very drinkable.
Overall
I expected a very hoppy beer, packed with lovely American hop aroma and flavour and I Hardcore You delivered. This is a very tasty brew that I'll definitely drink again (I have two bottles left in storage, hurray!). A well balanced and hoppy Imperial IPA, with my only 'complaint' being just a tiny bit too much hoppiness.