Last Friday I arranged a small beer tasting event for some friends and we tasted through 7 of my homebrews and 11 other beers that I had hanging around in my beer storage. There were some fantastic beers during the evening and we had a good time. Here are some pictures and short notes on the beers:

The whole lineup (two of the homebrews were tasted from keg, so they are not in the picture).

First up was La Tourmente's Blond, a belgian ale from France. The beer poured golden and had a slightly sweet and malty aroma, but it was surprisingly tasteless and bland. A good beer to start with though.

Next up was my homebrewed smoked vienna lager, which had lost a lot of its hoppiness, and now had more of a toasty and smokey edge. No off-flavors, and overall one of my favorite homebrews to date.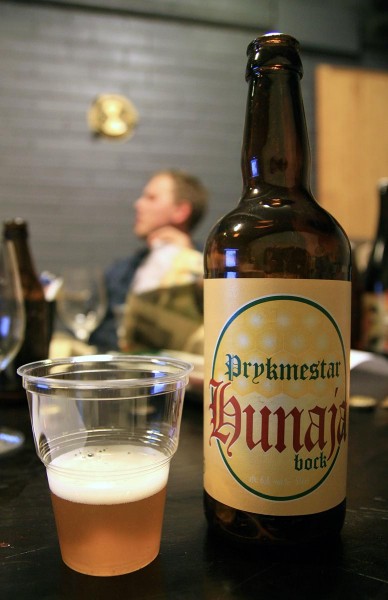 Then it was time for one of Alko's 80th Anniversary beers. Prykmestar's Hunajabock was a bit strange, I am wondering if it had started to go bad, as the aroma was a blend of honey, vinegar and mint, while the taste was sweet, malty and honey-like.

Then it was time for my homebrewed Tripel, which had aged nicely, with the spiciness and fruitiness blending together well, while the alcohol level was well hidden.
After this we tasted two homebrewed IPA/APAs straight from the keg (where they had been sitting for 6 days), and as expected with heavily dry hopped and recently kegged beer, they poured murky with a huge head. There was lots of fruity hoppiness in both beers, with the Citra leaning more towards the tropical fruits, and the Simcoe+Centennial towards grapefruits and other citrus. The beer felt a little young still, with the bitterness a little prominent still and some yeasty tones as well, but overall I find the beers very promising. Unfortunately there are no pictures of them.

Next it was time for the beer I was looking forward to the most during the evening, Cigar City's Humidor Series IPA. There was a very prominent woodiness in both the aroma and taste, which blended together with fruity and resiny hops. The beer has been aged on Spanish Cedar, the same material used to make humidors, and one of my friends commented the beer smelled just like one. The flavors were quite well balanced, but felt the woodiness was maybe a bit too prominent.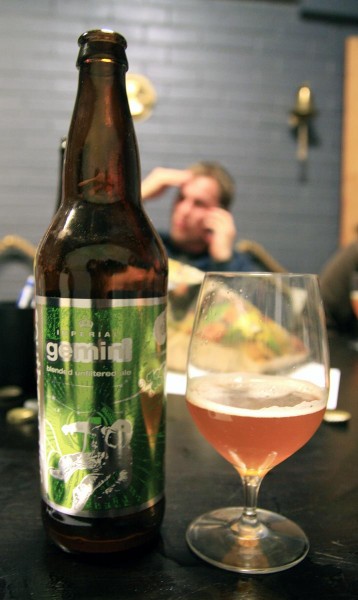 Then it was time for a blended imperial ipa, as we tried Southern Tier's Gemini (a 50-50 blend of their Unearthly and Hoppe). There was a lot of citrus and resin in both aroma and flavor, and this was backed up by a caramelly and quite sweet malt backbone. The bitterness was quite smooth, and felt the beer was well balanced. Really liked this one.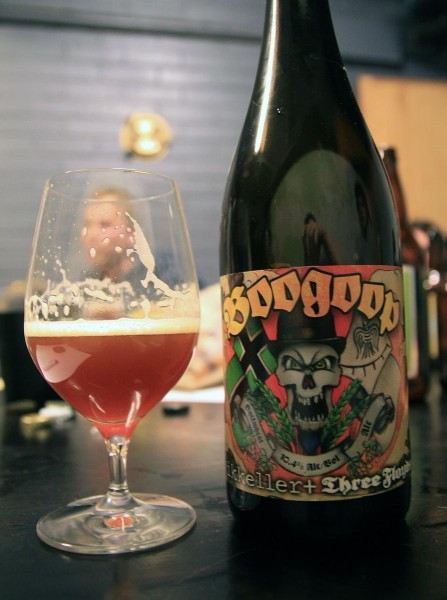 Next it was time to try Mikkeller's and Three Floyd's collaboration barleywine, Boogoop, which has been brewed with buckwheat. Haven't tried any of the other beers in the series (Oatgoop, Hvedegoop or Ruggoop), but this was definitely leaning towards the imperial ipa category, as it was very hoppy and bitter, but backed up well by a malty and caramelly backbone.

Then it was time to try Stone's Double Bastard (which was one of the few commercial beers of the night I had tasted before) and it also featured lots of hoppy tones, coupled with tones of caramel, red berries and even some raisins. There was some alcohol present as well.
After this we tried Brewdog's and Three Floyd's collaboration barleywine Bitch Please Islay, which has been brewed with peat-smoked malts and aged on Islay whisky casks. Tons of smokiness in the aroma and flavor, and it felt almost like sipping on a whisky. There was some sweet maltiness present as well, but overall a beer I wasn't very fond of.

Then we tried three of my homebrewed imperial stouts, the breakfast stout to the left, black panther in the middle, and oak-aged black panther to the right. The breakfast stout had strong tones of coffee and dark chocolate with blended nicely together with the roasted malt tones. The black panther featured tones of roasted malt together with an earthy hoppiness, while the oak-aged version added in some vanilla tones. All of them had aged well.

Next it was time for the only Trappist beer of the evening, Rochefort 10, which featured tones of dark fruits, raisins, caramel and malt. Very smooth, and definitely different compared to the imperial stouts we just tried.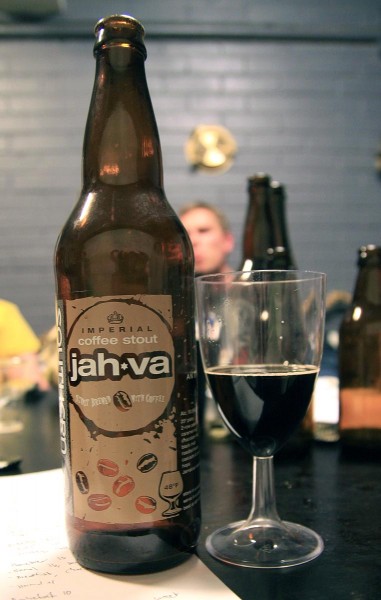 Then we tried a coffee-spiked imperial stout from Southern Tier. Jah-va, compared to the homebrewed breakfast stout, was smoother and more well balanced, with the coffee flavors merging perfectly with the roasted tones. Very easy to drink and tasty.

After this we tried one of Mikkeller's breakfast stouts, Beer Geek Brunch Weasel, which has been brewed with Kopi Luwak coffee. Compared to Jah-va, the flavors were stronger and more complex, with lots of roastiness and bitterness blending with coffee and chocolate tones.

The last beer of the evening was Brewdog's Tokyo*. The beer was completely pitch-black and the flavor featured tones of roasted malts, coffee, red berries and sweet caramel. The alcohol was surprisingly well hidden for being a 18.2% beer. Nice way to end the evening.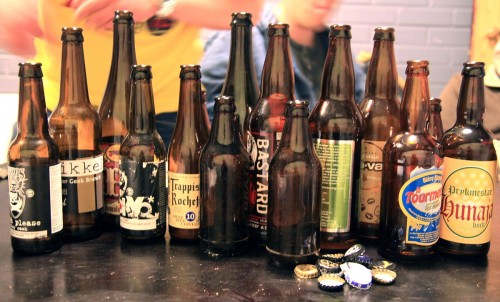 Thanks to everyone who made it!