Had some good beers yesterday at Hilpeä Hauki, a beer restaurant in Kallio, Helsinki (part of the 'fish restaurant' chain (Kalaravintolat)). I noticed they had one of my all-time favorites, Sierra Nevada Torpedo Extra IPA, on the pricelist, so had to have one of those again. The bartender also revealed that they had some hoppy beers from Victory Brewing Company: their HopDevil (American IPA) and Hop Wallop (Imperial IPA). I only had time for one other beer, so went for the HopDevil (after reading many good reviews on it). I wasn't disappointed, as it was fantastic, and will definitely have to come back and taste the Hop Wallop. Below are some short comments (won't be doing any full reviews, since I had nothing to take notes on and was a little drunk).
This is an aggressively hopped American IPA (6.7% ABV), with a hazy amber color and an almost non-existing tan head. The aroma was citrusy and piney, and the flavour was also dominated by fruity, citrusy and piney hops. It had a very aggressive, but pleasant, bitter bite on the tongue. A very good beer, would definitely drink again. Unfortunately only available from restaurants.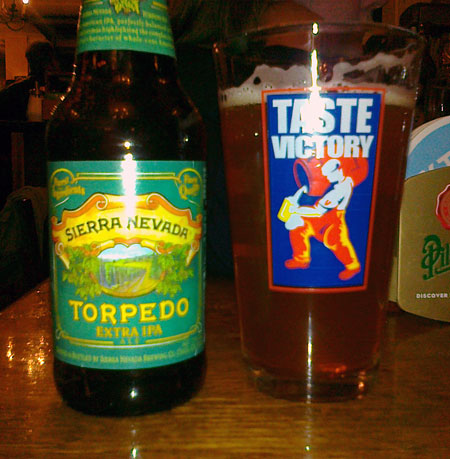 This is also a aggressively hopped (Magnum, Crystal and Citra) American IPA (sometimes classified as a Double IPA), with an amber color. Unfortunately the bottle I received has its best before date a month ago, so this beer had lost a lot of its aroma and flavour. You could still get some of the fruity and citrusy Citra aroma and flavour, but I was very disappointed. Hopefully I'll get a chance to drink a fresher Torpedo soon.