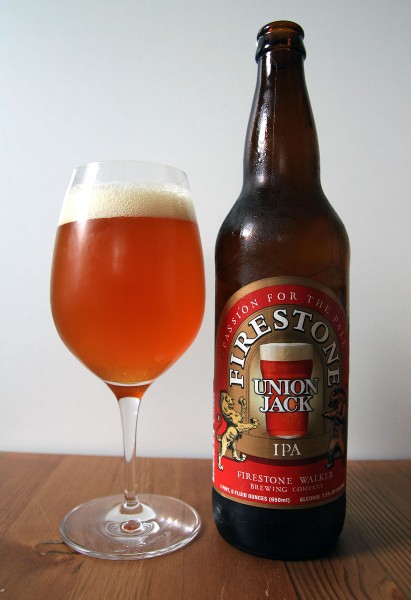 Brewery: Firestone Walker
Country: USA
Style: American IPA
ABV: 7.5%
Size: 650 ml
Bought from: Cracked Kettle, Holland
Today it's time for another American beer from my recent Cracked Kettle order, Firestone Walker's Union Jack IPA. Union Jack is a triple dry-hopped west coast IPA, that promises loads of hop aroma and flavour. I think (a bit difficult to distinguish the numbers on the bottle) this was bottled 15.12.2010, so unfortunately isn't super fresh, but hopefully it will still be tasty. The beer is brewed with 2-row, Munich, CaraPils and Light Crystal malt, and has been hopped with Warrior, Simcoe, Cascade, Centennial, Amarillo, and Chinook, to a bitterness of 70 IBU. Let's see how it does!
Firestone Union Jack India Pale Ale
Appearance
The beer has a golden-amber color, and is slighty hazy. A white-colored fluffy head is formed during pour, that quite quickly collapses, leaving nice lacing along the glass.
Smell
The aroma is dominated by citrusy, resiny, and floral hop tones, with hints of grapefruit, lemon, peach and pine. There is also some caramelly sweetness hidden behind the hops.
Taste
As the beer enters the mouth, there is an initial caramelly sweetness, that quickly is joined by hop tones of resin and grapefruit. The flavours end with a slight pleasant bitterness, as the hop tones fade away. The alcohol is perfectly hidden away, and overall this beer is fantastically balanced, as the maltiness, hoppiness, bitterness and alcohol join together perfectly, with no overpowering flavour.
Mouthfeel
The beer has a smooth medium body and a moderate-low carbonation level, making it pleasant to drink.
Overall
Another fantastic American IPA by a US craft brewery. Well balanced with loads of hop flavour and aroma. I can only imagine how this would taste if it was half a year fresher! Will definitely have to try Firestone's beers again if I ever get the chance. Too bad this was damn expensive from Cracked Kettle. Still one of the best beers I've ever had.