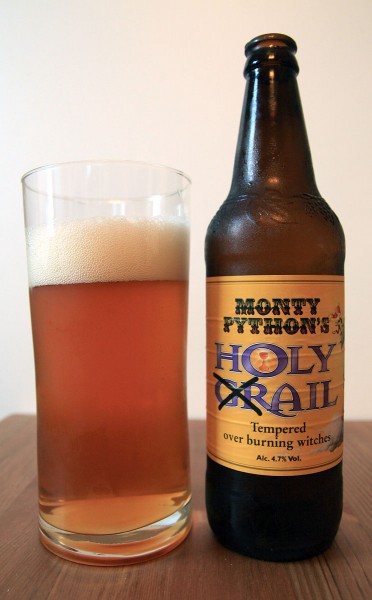 Brewery: Black Sheep
Country: England
Style: English Pale Ale/ESB
ABV: 4.7%
Size: 500 ml
Bought from: K-Citymarket, 3.89€
Have had a short break in blogging, as I've been abroad in Denmark on tour with my orchestra. Didn't have much time to drink (craft) beer there, but tried a Nørrebro New York Lager, Nørrebro Ravnsborg Rød, Skovlyst India Pale Ale, and a Svaneke Stout, all of which were good, but nothing really special or memorable. Today it is time for a beer my girlfriend bought to me. Black Sheep's Monty Python's Holy Grail, which was commissioned for Monty Python's 30 year anniversary, is an ale brewed with Maris Otter malt, hopped with 'old English Hop varieties including a touch of WGV hops' (I have never heard of these before, but it is apparently an abbreviation of Whitbread Golding Variety), and features an imaginative name and recognizable label. Let's see how this one does.
[easyreview title="Black Sheep Monty Python's Holy Grail" cat1title="Appearance" cat1detail="The beer has a clear golden color, with a quickly collapsing white-colored head, that leaves nice lacing along the glass." cat1rating="4″ cat2title="Smell" cat2detail="Not a strong aroma, but there is a presence of malt, herbal hops, and a slight fruitiness." cat2rating="3″ cat3title="Taste" cat3detail="The flavour begins with a slight sweetness, that is joined by a crisp herbal bitterness and some green apple-like tones (acetaldehyde?). There are some bread tones present also, but overall the flavour is quite reserved." cat3rating="2.5″ cat4title="Mouthfeel" cat4detail="The beer has light body with a quite harsh medium-high level of carbonation, making it a bit difficult to drink." cat4rating="2.5″ summary="Unfortunately nothing special here, a drinkable beer, that I wouldn't buy again though (especially because of the high price). The unpleasant carbonation, crisp bitterness and slight green apple flavour let me down."]
Thanks to Pia for buying me this!