Last week I was on a short visit to Paris, and while there I checked out some of the local beer shops and pubs. I ended up buying a total of 14 bottles home (one I actually had at the hotel). Here are some short comments about the places I visited.
La Cave à Bulles
A fantastic bottle shop, featuring loads of French craft beer. The owner was really friendly and talkative. The focus was mainly on French beer (the prices varied from around 3.5€ to 7€ depending on bottle size and type), but there were some imports as well (e.g. Cantillon, Jester King, Hoppin Frog, Port Brewing, BrewDog, Mikkeller, Nogne O, and Dieu du Ciel). I bought 7 different French IPAs, which should be really interesting to try out (I've actually already had one bottle, which was okay). The imports were a lot more expensive, and only ended up buying a bottle of Dieu du Ciel's Aphrodisiaque. I don't have any pictures from inside unfortunately, but I definitely recommend a visit! They seemed to have quite a nice line-up of Cantillon, 3 Fonteinen, and other lambic, but since those aren't really my cup of tea I didn't buy anything.
Homepage – RateBeer link – Google Maps link
Bières Cultes

Another bottle shop I visited briefly, since it is quite close to La Cave à Bulles. The shop was a little smaller, which also meant that the selection was a little smaller. The selection consisted mostly of Belgian beer, and since most of those are quite easily accessible for me, I choose not to buy much from here. They had some imports as well (e.g. Kernel, Brewfist, Brewdog, Nogne O, Fano and Rogue), and I decided to buy a bottle of Kernel's Export India Porter and Brewfist's 2Late. The prices seemed to be slightly lower than at La Cave à Bulles, so that is nice. As mentioned earlier, it is very close to La Cave à Bulles, so why not pay a visit if you are in the area? There are apparently other Bières Cultes shops around town as well.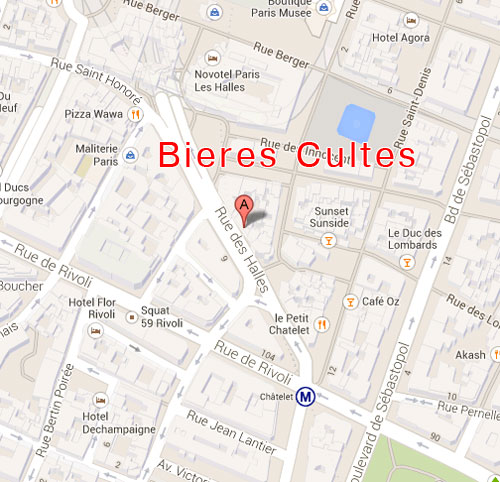 Homepage – RateBeer link – Google Maps link
La Moustache Blanche
This was the last of the three bottle shops I visited. The shop was of similar size to Bières Cultes, and featured a nice mix of French craft beer and imports (e.g. Kernel, Mikkeller, To Ol, Green Flash, Nogne O, Amager, and Struise). Since I had already bought quite a lot of bottles, I didn't buy much here. The prices were quite similar to the other shops. The imports were priced similarly to Bières Cultes (i.e. slightly cheaper than La Cave à Bulles). The owner was friendly and talkative. I definitely recommend a visit to this shop as well!
Homepage – RateBeer link – Google Maps link
Express de Lyon
A pub/restaurant located right next to the Gare de Lyon station. I came here only to try a few beers, but ended up having a cheeseburger as well (which was good, but not great). They didn't have a large selection (around 15 taps and a similar amount of bottles), but there was good variety and some nice craft beer to choose from. Beers were mostly European, but there was some American beer as well. I had a Rogue Yellow Snow IPA (which was tasting slightly unclean unfortunately) and a De Molen Amarillo (amazingly fruity and really nice) from tap. The beers and a Cheeseburger was around 20€, so quite nice prices as well (oh, and it was cheaper to drink at the bar than at a table). The place was quite filled up around lunch hours (most people were not there to drink beer it seemed like), but the place started emptying up while I was there from around 1 to 3 pm. They had Struise Black Albert on tap as well, but was not really in the mood for a strong Imperial Stout at the time. Overall a really nice place and I recommend paying a visit (+ they had free wireless).
Rogue Yellow Snow IPA
De Molen Amarillo
Homepage – RateBeer link – Google Maps link
La Fine Mousse
The final place I visited was a bar specialized in craft beer. I came here a couple of minutes after they opened and there were already a couple of people inside drinking beer (blend of tourists and hipsters). The place had a clean and modern, almost industrial, style look. Behind the bar was a row of 20 unlabeled tap handles and above them on the wall was a chalkboard with a list of what was on tap. The tap beers were mostly French, with a couple of Belgians, Brooklyn Sorachi Ace and Nogne O #100. They also had a large bottle selection (around 150 bottles I think), but I didn't try any. The owner (at least I think it was him behind the bar when I came in) was friendly and recommended me a couple of beers when I asked for something hoppy. I ended up trying four beers in total, 2 being great, one was good, while I think the final was infected. Etoile du Nord was the first I tried (sold as an English IPA, but apparently more of a Saison), but it wasn't very IPA-ish and tasted like plastic. I think this might have been infected? I moved on to La Sylvie'cious, which was an okay IPA, featuring some floral hops and a slightly unclean flavour. Outland's West Coast IPA was the best of the French beer, with nice hop tones of tropical fruit. I was surprised with the color though, and would classify it as an American Brown Ale rather. The final beer of the night was Nogne O's #100, which was as fantastic as ever. Really delicious and complex flavours. Prices were quite fair, and I think I ended up paying around 22 euros for the 4 beers. The place was quite small, and it started to get a little crowded as the evening progressed, so I recommend you come there early. I definitely recommend a visit if you are after craft beer in Paris!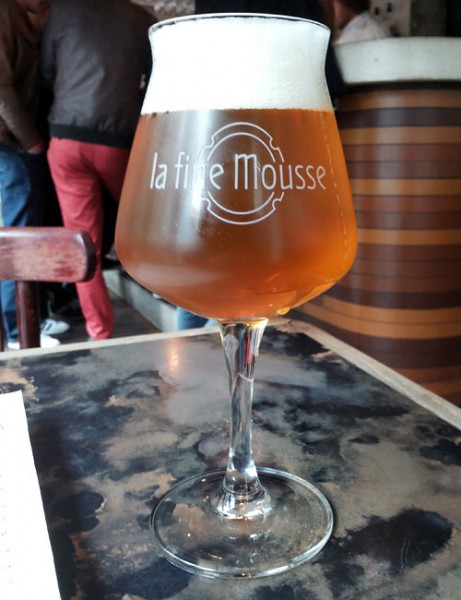 Brasserie Thiriez Etoile du Nord
Brasserie Le Paradis La Sylvie'cious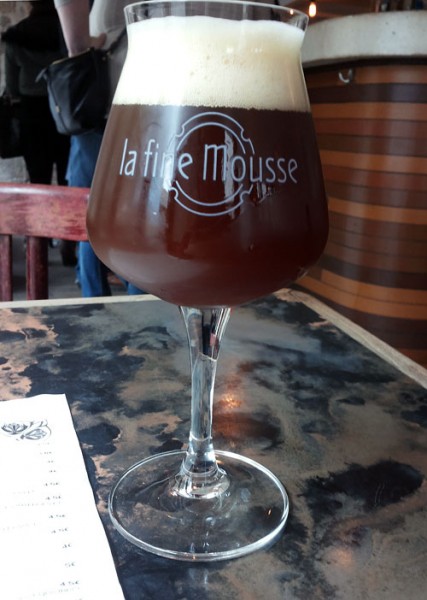 Brasserie Outland West Coast IPA
Nogne O #100