Today I brewed up the Black Lodge Imperial Stout mentioned in the previous post. Everything went quite well, and even hit my target original gravity of 1.100, so this should end up around 9.0-9.5%, depending on how dry it ferments. Might have to add some more coffee, cherry juice concentrate and chili before bulk aging, if the flavors aren't strong enough. Fingers crossed this turns out good. Recipe and brewday pictures below.

The 'special' ingredients. From left to right: The resiny and piney Chinook hops (douglas firs of the Northwestern woods), the candi syrup (the dark soul of Windom Earle), the coffee beans (damn fine coffee), the chili (something that will really light your fire), and the cherry juice concentrate (the best cherry pie in town).



Cutting up the Cheyenne chili.



Weighing up the coffee beans.



The four hop additions.



The mash. Thick and smelling good!



Lautering into the kettle. The beer is very dark and thick as you can see.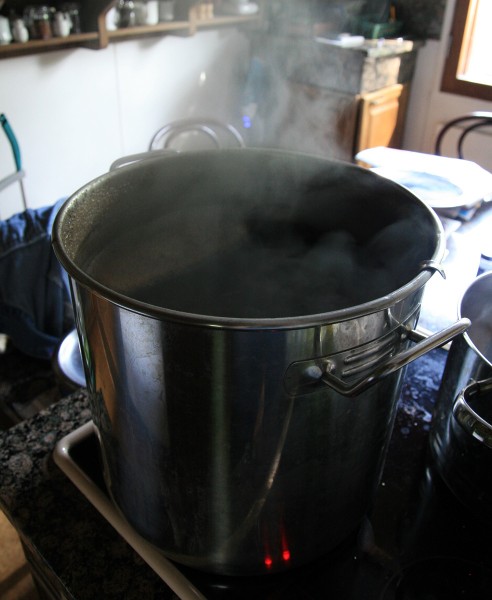 Boiling. I needed to boil off lots of water to hit the high gravity.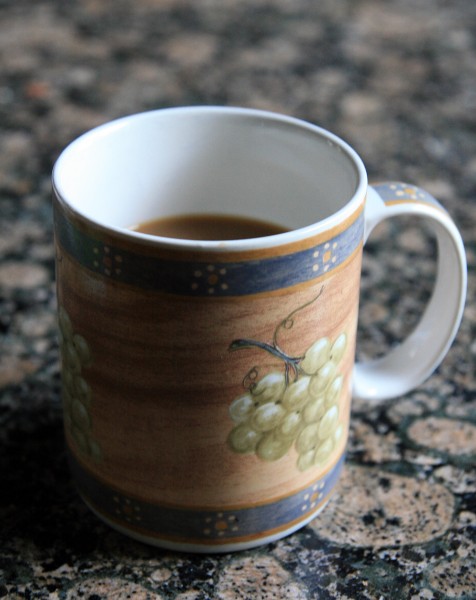 Enjoying a damn fine cup of joe during the boil.



Adding the juice after flameout.


Recipe: Twin Peaks - Black Lodge
Style: Imperial Stout
TYPE: All Grain

Recipe Specifications
--------------------------
Boil Size: 20.14 l
Post Boil Volume: 16.64 l
Batch Size (fermenter): 12.00 l   
Bottling Volume: 10.00 l
Estimated OG: 1.101 SG
Estimated Color: 146.5 EBC
Estimated IBU: 66.6 IBUs
Brewhouse Efficiency: 50.00 %
Est Mash Efficiency: 68.8 %
Boil Time: 105 Minutes

Ingredients:
------------
Amt            Name                                     Type      #    %/IBU         
5.000 kg       Pale Ale (2-row) (6.0 EBC)               Grain     1    66.4 %        
0.450 kg       Crystal Malt - 60L (Thomas Fawcett) (118 Grain     2    6.0 %         
0.450 kg       Munich (20.0 EBC)                        Grain     3    6.0 %         
0.450 kg       Rye, Flaked (3.9 EBC)                    Grain     4    6.0 %         
0.250 kg       Carafa Special III (Weyermann) (925.9 EB Grain     5    3.3 %         
0.250 kg       Chocolate Malt (Thomas Fawcett) (1000.8  Grain     6    3.3 %         
0.250 kg       Roasted Barley (1500.0 EBC)              Grain     7    3.3 %         
0.325 kg       Candi Sugar, Dark (541.8 EBC)            Sugar     8    4.3 %         
0.100 kg       Sugar from Cherry Juice (2.0 EBC)        Sugar     9    1.3 %         
25.00 g        Chinook [13.00 %] - Boil 60.0 min        Hop       10   39.3 IBUs     
25.00 g        Chinook [13.00 %] - Boil 15.0 min        Hop       11   19.5 IBUs     
25.00 g        Chinook [13.00 %] - Boil 5.0 min         Hop       12   7.8 IBUs      
0.20 l         Cherry Juice (Boil 0.0 mins)             Flavor    13   -             
25.00 g        Chinook [13.00 %] - Aroma Steep 15.0 min Hop       14   0.0 IBUs      
15.00 g        Ground Coffee (Boil 0.0 mins)            Spice     15   -             
1.00 Items     Chili (Boil 0.0 mins)                    Spice     16   -             
1.0 pkg        Safale American  (DCL/Fermentis #US-05)  Yeast     17   -