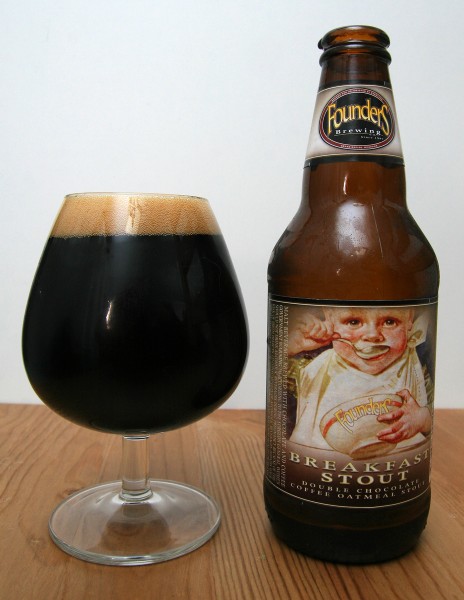 Brewery: Founders Brewing Company
Country: USA
Style: Imperial Stout (Oatmeal Stout)
ABV: 8.3 %
Size: 355 ml
Bought from: Online, 5 euros?
A rich and complex Imperial Stout might be a strange beer to drink on a warm summer night, but after some really hoppy and bitter IPAs I felt the urge for a chocolatey and coffee-like Imperial Stout. I tried this (legendary) Double Chocolate Coffee Oatmeal Stout during my trip to Amsterdam in January, and immediately fell in love. I also tried brewing my own version of it in January, and it turned out surprisingly good. This Imperial Stout has been brewed with flaked oats, chocolate, cacao nibs, and Sumatra and Kona coffee, to give it a thick mouthfeel combined with flavors of chocolate and coffee. Only bacon missing, and this would be a perfect breakfast. The bottle also features artwork of a baby eating from a bowl on the label, and this label caused the beer to be banned from Systembolaget in Sweden. For the same reasons we will probably never see this beer at (Arkadia) Alko either. The bitterness is reported at 60 IBU. Hopefully this tastes as good as I remember!
Founders Breakfast Stout
Appearance
The beer pours pitch black with a thick consistency, and a tan-colored head is formed, that collapses quite quickly without leaving any lacing.
Smell
The aroma is dominated by tones of coffee, dark chocolate, roasted malts, licorice and caramel. Fantastic aroma if you are a fan of these kind of darker complex Imperial Stout tones. Bordering to a 5.
Taste
The flavor is dominated by similar tones present in the aroma. Coffee, chocolate, roasted malts, caramel, ash and the slightest dark fruits come together in a bittersweet harmony. The finish is semi-sweet and quite bitter, but the flavors play together very well. The coffee and chocolate go great together, and even though they dominate the flavor, they don't take over completely. As the beer warms up, the alcohol sweetness becomes more evident, and the flavors become stronger.
Mouthfeel
The beer has a very smooth and full body and medium-low carbonation level. The beer feels thick as well, and as it passes through the mouth you can feel it stick to the roof of the mouth. This is definitely a slow-sipper, a not something you want to have a warm summer day on the beach.
Overall
A fantastic beer, that was as tasty as I remembered. The aroma and flavor are complex and full-packed with dark roasted tones that go together fantastically. The coffee and chocolate are present, and balance perfectly with the roasted malts and bitterness. A very drinkable beer for being this big. I haven't had the chance to try out too many Founders beers, but they seem to know what they are doing. If you ever get the chance to try it out, do it!