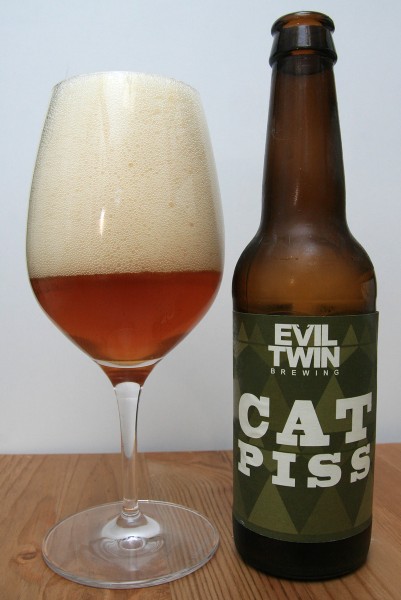 Brewery: Evil Twin Brewing (Brewed at Brouwerij de Molen)
Country: Denmark
Style: American IPA
ABV: 6.5 %
Size: 330 ml
Bought from: Online, 3.5 euros?
Decided to begin the evening with a Danish beer in honor of the Denmark-Portugal football game. This is an American IPA by the Danish phantom brewer (i.e. Evil Twin doesn't own a brewery of its own) Jeppe (twin brother of Mikkel(er)). Heavily dry hopped beers (especially those hopped with Citra and Simcoe) sometimes have tones of cat piss, and I assume that is what the brewer is hinting with the name of this beer. This beer has been hopped with Nelson Sauvin (which I used for my latest homebrew), so should (hopefully) have some tropical tones as well. Have tried a couple of Evil Twin beers before, some were really good, some were a bit strange, so am not expecting much from this one. Hopefully I'll be positively surprised!
Evil Twin Cat Piss
Appearance
The beer pours with a slightly hazy golden orange color, and a massive fluffy white head, that collapses slowly leaving some lacing along the glass.
Smell
The aroma is fruity and floral, and the hops bring tones of mango, grass and herbs. There is just a hint of white wine in the aroma as well. The aroma isn't very strong.
Taste
The flavor begins with a bready maltiness, that is quickly joined by light hop flavors of tropical fruits. The bitterness is quite light as well, but it becomes more evident as the beer has passed down the throat. The finish is dry, and their is a slightly alcohol/solvent-like off-taste as well. Flavors could be stronger.
Mouthfeel
The body is quite light and the carbonation level quite high, making it refreshing, but a little harsh, to drink.
Overall
An okay beer, but nothing more. There was some promising hoppiness in the aroma, but there was not much left of it in the flavor. The flavor was still mostly flawless (except the slight solvent-like off-taste). The high carbonation level made it a bit difficult to drink, and I actually poured out half the beer as I couldn't finish it. Shame, since I really liked Evil Twin's Yin and Yang.